Ai Yazawa (矢沢あい Yazawa Ai, born March 7, 1967 in Osaka, Japan) is the pen name of the creator of Nana, Paradise Kiss, Kagen no Tsuki, Gokinjo Monogatari, and Tenshi Nanka Ja Nai as well as many other smaller works. 
Yazawa made her manga artist debut in Ribon magazine in which she published most of her series. The only exceptions being Paradise Kiss in Zipper, and Nana in Cookie.
In 2009, Ai Yazawa contracted an illness, which put Nana on hold. She has returned from the hospital, but as of late it is still unknown if Nana will return. More recently Yazawa began publishing "Junko's Room" again in Cookie.
Biography
Edit
Early life
Edit
Ai Yazawa was born on March 7, 1967 in the Osaka, Japan. In 1971, she moved to Amagasaki in the Hyōgo prefecture of Japan. At some time she attended a fashion school before becoming a manga author.
Early career
Edit
She made her debut as a manga artist with "Ano Natsu" in Ribon's special spring issue in 1985. Her first few works were mostly one-shots or about one volume, excluding Ballad Made Soba ni Ite (two volumes), and Marine Blue no Kaze ni Dakarete (four volumes).
15-nenme was her first story to be published in volume format during 1986. Soon after Love Letter, which details the long-distance relationship of Yari, was published in 1987. Followed by Kaze ni Nare! and Escape in 1988. Next Ballad Made Soba ni Ite went on for two volumes in 1989, only to be topped by Marine Blue no Kaze ni Dakarete a year later with four volumes. In 1992, a collection of short-stories titled, Usubeni no Arashi, was released.
Early success
Edit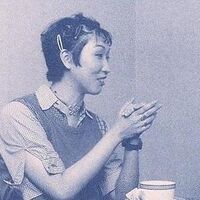 In 1991, Yazawa began her successful manga,
Tenshi Nanka Ja Nai
. The story details the lives of the
Hijiri Academy
Student Council, focusing primarily on
Midori Saejima
. The concluded in 1994 with eight volumes. Owed to the series success an
artbook
was published in 1994. An
OVA adaption
was also released sometime in 1994.
Yazawa soon after started working on Gokinjo Monogatari in 1995. The manga shows the tumultuous relationship of Mikako Kouda and Tsutomu Yamaguchi, who both attend Yazawa Gakuen. Shortly after the start of the series an anime adaption began airing, and concluded before the manga ended. An artbook, Welcome to Gokinjo World was also released for this series, making it Yazawa's second.
Kagen no Tsuki, translated to Last Quarter, a short three-volume series was Yazawa's last series in Ribon. The story follows a group of elementary-school students as they discover the ties "Eve", a ghost, has to an abandoned house and to a man named Adam Lange. Kagen no Tsuki was concluded in 1999. Sometime after in 2004, a live-action film starring Chiaki Kuriyama was released.
Further success
Edit
In 1999, Yazawa worked on Paradise Kiss and Nana concurrently, until the end of ParaKiss in 2004. Although being the sequel to Gokinjo Monogatari, Paradise Kiss was published by Shodensha in their fashion magazine, Zipper. It's a coming-of-age story, starring Yukari Hayasaka and several Yazawa Gakuen students. The manga proved popular with the release of an anime in 2005, followed by a postcard collection, and a live-action film in 2011.
Nana is Yazawa's longest series and arguably her most popular. The series was serialized in Cookie , before going on hiatus in 2009. Nana features two girls, both named Nana, and their entanglements with two bands, Black Stones and Trapnest. In 2006, Nana was adapted into a popular anime, spawning many other products. The series has also been made into a film with a sequel, and several video games.
Personal life
Edit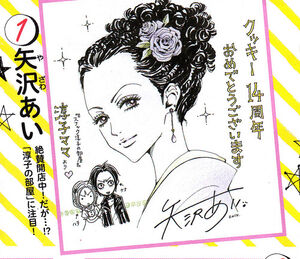 Her pen name comes from
Eikichi Yazawa
, a Japanese singer that she is a fan of. Yazawa is also a big fan of
Rumi Shishido
, the voice of
Mikako
, and promotes her work often. In 2003, she designed the cover of Shishido's third studio album,
Rumi Roll
.
Ai Yazawa is said to be good friends with fellow manga artists, Wataru Yoshizumi, Miho Obana, and Megumi Mizusawa. All were considered "Ribon mangakas," and had popular series in Ribon around the same time in the 1990s.[1]
In June 2009, Yazawa contracted an unknown illness, which she was hospitalized for, putting her Nana on hold. She returned from the hospital in April, 2010, but it is still unknown if she will continue writting, Nana.[2]In early 2013, Yazawa released a "Junko's Room" chapter in Cookie.[3] This sparked rumors of Yazawa continuing Nana, however as of 2015, the rumors are still not confirmed.
Yazawa continued to release several "Junko's Room" chapters before also putting it on hiatus in 2014. More recently in 2015, Yazawa has released a few color images featuring Nana characters.[4]
Bibliography
Edit
Manga series
Edit
Collaborations
Edit
References
Edit