Welcome to Ai Yazawa Wiki.
The Wiki that anyone can edit.
Please look over our policies before editing.
We are currently editing over 31 articles, and 100 files since March 18, 2012.
Welcome to Ai Yazawa Wiki
About Ai Yazawa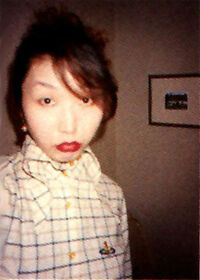 Ai Yazawa (矢沢あい Yazawa Ai, born March 7, 1967 in Hyōgo Prefecture, Japan) is a popular manga artist of series, such as Nana, Gokinjo Monogatari, Paradise Kiss, etc. She debuted in Ribon magazine with Ano Natsu sometime in the mid-1980's. She wrote several short stories, like 15-nenme and Kaze ni Nare!, before hitting moderate success with Tenshi Nanka Ja Nai. Ten-nai was adapted into a OVA in 1994, along with an artbook. Yazawa's popularity grew with the serialization of Gokinjo Monogatari, which was adapted into a fifty episode anime, a series of light novels, and an artbook. Her series, Kagen no Tsuki was the first of her works to be made into a live-action film. Yazawa started her most popular works, Paradise Kiss and Nana, around the same time in 1999. ParaKiss was made into an anime, and a film. Nana was adapted into two films, an anime, three video games, and several books.
Ai Yazawa has done several cover designs for novels and CDs, like Rumi Roll and Tsuya. She also drew character designs for the manga, Princess Ai, by Courtney Love and DJ Milky, etc. Read more...
Works
How to help
All pages can be edited and you are welcome to join us and contribute to this wiki. Everyone is free to create a new page or edit an existing one. If you have any questions about the wiki or helping out, you can ask one of Ai Yazawa Wiki's administrators.
If you are new to wikis, you may want to read the help page.
A list of all help pages can be found in .
If you want to help but you're not sure where to start, try improving the various articles by expanding them.
Another helpful activity would be to check the list of wanted pages for frequently linked-to articles that don't exist yet.
You can find a list of useful templates on .
If you want to experiment with editing a wiki, please do it in a sandbox, not in articles.
Featured work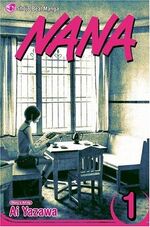 Nana (ナナ) is Yazawa's latest work, and arguably her most popular. It centers around two girls that share the same name, Nana Komatsu, and Nana Osaki. It was serialized in the magazine, Cookie, and published by Shueisha in Japan. In America, it was serialized in Shojo Beat, and published by Viz Media. A live-action film was released in 2005 with a sequel released shortly after in 2006. An anime was aired from 2006 to 2007 with a total of forty-seven episodes. The manga is currently on hold, after Yazawa's sudden illness in 2009. Read more...
News
Did you know?
Poll
Which Ai Yazawa series is your favorite?
Community content is available under
CC-BY-SA
unless otherwise noted.