America's Sweetheart is the debut solo album of Courtney Love. The album was released by Virgin Records worldwide on February 10, 2004. Her first official release after her former band Hole's break-up, the album's sound diverged significantly in musical and lyrical content to Hole's three previous studio albums.
Following recording, America's Sweetheart was further delayed due to Virgin's excessive input on the album's mastering, art work and design, and track listing. Upon its release, it received little promotion, with the main source of media exposure being a music video for the album's first single, "Mono," and Love's highly publicised drug issues. Although received well amongst critics, America's Sweetheart was a commercial failure, selling little over 200,000 copies in the United States, and with Love further citing the album as "a mistake."
Ai Yazawa designed the Japanese cover-art of the album, after collaborating with Love on Princess Ai.[1] The design appears strikingly similar to the lead character of Princess Ai'.
Background
Edit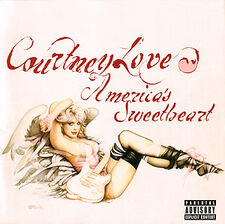 Though the original recordings for
America's Sweetheart
were made at a château in the south of France in 2003, the concept of Love's first solo album was conceived as early as 2001. Critics who had heard the recordings referred to the tracks as "her best recordings yet."
In 2001, she signed to Virgin Records, who offered her a $20 million record deal. However, upon purchasing the album, Virgin demanded that the album be re-recorded so it would make their fiscal-year deadline of March 31. Love, who was in rehab for drug addiction at the time, was brought back and forth from her health center by Virgin Records and subsequently, her recovery from addiction did not improve and she became overwhelmed by compulsory work. Aside from it all, Love later revealed to Rolling Stone that she "never saw a penny" from the advance that Virgin Records supposedly paid her for America's Sweetheart.
Track listing
Edit
No.
Title
Writer(s)
Length
1.
"Mono"  
Courtney Love, Linda Perry, Patty Schemel, Larry Schemel
3:39
2.
"But Julian, I'm a Little Bit Older Than You"  
Love, P. Schemel, L. Schemel
2:48
3.
"Hold on to Me"  
Love
3:45
4.
"Sunset Strip"  
Love, Perry, P. Schemel, Jerry Best
5:32
5.
"All the Drugs"  
Love, P. Schemel, Best, Chris Whitemyer
4:31
6.
"Almost Golden"  
Love, James Barber
3:25
7.
"I'll Do Anything"  
Love, Perry, P. Schemel, Best
3:01
8.
"Uncool"  
Love, Perry, P. Schemel, Best, Bernie Taupin
4:37
9.
"Life Despite God"  
Love, Perry, P. Schemel, Best
4:16
10.
"Hello"  
Love, Perry, P. Schemel, Best
3:10
11.
"Zeplin Song"  
Love, Perry, Samantha Maloney
2:48
12.
"Never Gonna Be the Same"  
Love, Perry, P. Schemel, Best
5:07

Total length:

46:39
Japanese[2] bonus track
No.
Title
Writer(s)
Length
13.
"Fly"  
Love, Perry, P. Schemel, Best
2:43
References
Edit