For extended overview on this topic, see the Tenshi Nanka Ja Nai Wiki.
Tenshi Nanka Ja Nai (天使なんかじゃない, lit. I'm Not an Angel) often shortened to Ten-nai by fans, is a manga, created by Ai Yazawa. It was serialized by Ribon, like the bulk of Yazawa's other series. The manga was collected into eight volumes. An OVA adaptation was released in 1994, along with an artbook.
Ten-nai was followed by another popular Yazawa manga, Gokinjo Monogatari in 1995. Several characters make cameos in Gokinjo, most prominently Ken Nakagawa who bears an uncanny resemblance to Tsutomu Yamaguchi. Midori, Akira, Takigawa, and Yuko, including Tonko, and Kayo all make small cameos.
Midori Saejima has recently enrolled at Hijiri Academy, a recently established school. Her classmates convince her to run for student council. She decides against it at first, before she sees that her recent crush, Akira Sudou is running too. Midori is elected the vice-president, and Akira is president. She becomes fast friends, after sometime with the rest of the council, Yuko Mamiya, Shuuichi Takigawa, and Bunta Kouno.
Tenshi Nanka Ja Nai can be considered Yazawa's first successful manga series. Ribon serialized it from 1991 to 1994, and Shueisha published the manga into eight volumes.
In 2000, Ten-nai was republished by Shueisha in four volumes. The covers were all-new designs by Ai Yazawa. Later, Tenshi Nanka Ja Nai was republished again starting in 2008. It was published into six volumes this time, and each cover depicts a real-life situation with a "Sudou Saurus" in each background.
Cover
Volume #
Japanese release date
ISBN
1
May, 1992[1]
9784088536101
2
September, 1992[1]
9784088536286
3
March, 1993[1]
9784088536552
4
August, 1993[1]
9784088536804
5
January, 1994[1]
9784088537092
6
June, 1994[1]
9784088537382
7
October, 1994[1]
9784088537580
8
March, 1995[1]
9784088537856
Other media
Edit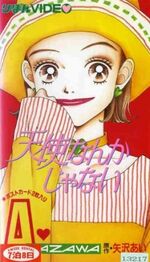 Main Article: Tenshi Nanka Ja Nai (OVA)
An OVA adaption was presented on September 21, 1994 at the Ribon Festival, and focuses roughly on the beginning of the manga. The OVA is about a half-an-hour long, and was released on video tape sometime after it's premiere.
Main Article: Tenshi Nanka Ja Nai Artbook
An artbook was released sometime in 1994, after the moderate success Tenshi Nanka Ja Nai garnered. The artbook contains full-colored illustrations, and includes pages dedicated to the miscellaneous products of Ten-nai.
2008 - 2009
Edit
References
Edit
Community content is available under
CC-BY-SA
unless otherwise noted.